Welcome to Gas City Vending Ltd.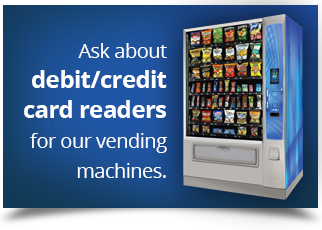 Vending Machines in Medicine Hat, Redcliff, Brooks, Dunmore, and Suffield, Alberta
Gas City Vending is a full-service vending provider offering brand name snacks, beverages and food items to our home city of Medicine Hat, Alberta and the surrounding area.

Featuring a team of dedicated, experienced employees who are well versed in proper customer service, we are known for our flexibility, with inventories completely customized to your preferences, and our fleet of state-of-the-art, reliable vending machines.

Fully licensed and insured, you can feel confident in our industry knowledge and professionalism. Also, whatever you need, our response is always quick and thorough.
Use Your Smartphone to Make a Purchase
We give new meaning to "swipe to pay." No more fiddling for change, ironing bills, or rubbing your card's magnetic stripe on your jeans. With PayRange technology, your about an arm's length from the machine, the App automatically connects to the machine and the user simply "swipes" on their smart phone to pay. No personal information is stored and credit card numbers are managed securely by a PCI compliant processor. We never see or store credit card numbers on our servers.